"Magnitude 80" incorporates the latest developments in yacht design to reach the client's goal as the
fastest boat to be based in the restricted draft of his home port. All-carbon laminates combine with a
canting keel to keep displacement to a minimum while a retractable forward dagger board dramatically
reduces offwind drag compared to rotating canard configurations. Drag is further minimized with a
retracting sail drive and all appendages - keel, bulb, dagger board and rudder are carefully optimized with
the latest CFD tools.

MAGNITUDE 80
Principal Dimensions
LOA

80.0 ft.
24.38 m

LWL

70.6 ft.
21.52 m

Beam

15.6 ft.
4.77 m

Draft

12.16 ft.
3.71 m

Displacement

31,750 lbs
14,400 kg

Ballast

13,050 lbs
5930 kg

J

28.1 ft.
8.56 m

IM

88.5 ft.
27.00 m

ISP

101.7 ft.
31.00 m

TPS

43.8 ft.
13.34 m

P

93.2 ft.
28.40 m

E

33.3 ft.
10.15 m

Centerline dagger board ahead of canting keel.

Retractable sprit also raises and rotates aft for running.

Std. and intermediate carbon with variable density. Baltek SuperLite laminated with heat cured Gougen ProSet Epoxy.
Spars:
Hall Spars

Winches & Hardware:

Harken
Hydraulics:
Caraboni
Electronics:
B & G
Sails:
North Sails

Engine:

Cummins 1.7 MS with retractable outdrive

Computational Fluid Dynamics Consultant - Egan Tech, David Egan

Composite Engineering by High Modulus, NZ

Canting Keel Structural Consulting by DKI, Dirk Kramers

Launched by Dencho Marine, Long Beach, CA in February 2004

Deck Plan
(Click to enlarge)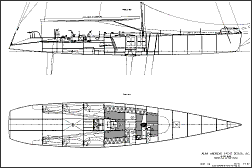 Interior Plan
(Click to enlarge)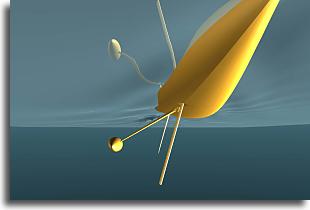 Underbody configurations developed with the assistance
of advanced Computational Fluid Dynamics studies.
Click on graphic for more information.