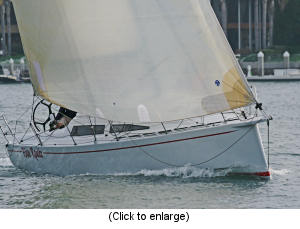 "Bien Roulée" is a high performance and comfortable racer/cruiser to be sailed primarily in Southern California with races as far as Cabo San Lucas and Hawaii. This boat will be day sailed shorthanded (1-2 people), will occasionally race point to point with 4-6 people, race "Beer Cans" with 3-8 people, race to Hawaii and Mexico with a crew of 6 and comfortably cruise to Catalina with 2 -6 for a long weekend.

Through sophisticated design the rig is designed to facilitate shorthanded sailing, powerful enough for light air, and easy to shift gears and de-power in heavy air. Construction is light and strong, predominantly in carbon fiber while blending in other materials to achieve cost, performance and weight goals. Accommodations and systems are practical, maintainable, reliable and seaworthy.

The deck arrangement is tailored to short handed performance sailing and comfortable racing in higher wind ranges when fully crewed. Starting from the stern, there is dinghy and dock access on both sides of the transom leading to the cockpit where two pairs of winches and jammers handle all sheets and halyards. On the foredeck, the anchor locker is larger than usual to provide space for an under deck jib furling drum and below deck stowage for a masthead genoa or spinnaker.

The sliding companionway hatch leads below where there is a wet locker to port and a large galley to starboard with the engine under the galley counter and sink area. Next forward to port is a chart table and instrument area and then two settees with the table around the mast. Further forward is a large full width head and then a removable v-berth. Aft from the companionway are the port enclosed "owners" cabin, and to starboard a double berth.